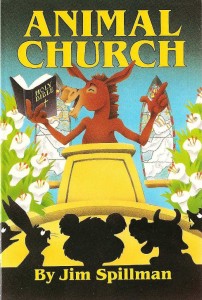 Animal Church
Author: Jim Spillman
ISBN: 978-0866941075
156 pages, 5.5″x8″, Perfect Bound, Paperback
$6.99 (plus shipping and handling)



A delightful and insightful look at the Christian Church in America.
Meet Further O'Feathery, who presides over the Wingo games at the local Roamin church.
And the pastor of the Veterinary Fellowship Center, who is just a little bit afraid to take a real stand.
And little Sammy Woolerton, the Great Shepherd's latest convert, who only wants to know more about Him – but has to learn from his elders, who have problems of their own.
You'll laugh. You'll cry. And you might decide there's room for improvement at your local place of worship.
Reviews:
"THIS BOOK IS FILLED WITH THE VERY THINGS THAT ARE INVADING OUR CHURCHES TODAY. I SEE MYSELF IN MANY OF THE TOO TRUE SITUATIONS. I HAVE LEARNED MUCH AND HOPE THAT I CAN BECOME A BETTER CHRISTIAN BY EXAMINING MYSELF AND MY MOTIVES IN THE LIGHT OF THE AUTHOR'S ASTUTE OBSERVATIONS."